Cauhé industrial paper cutter guillotines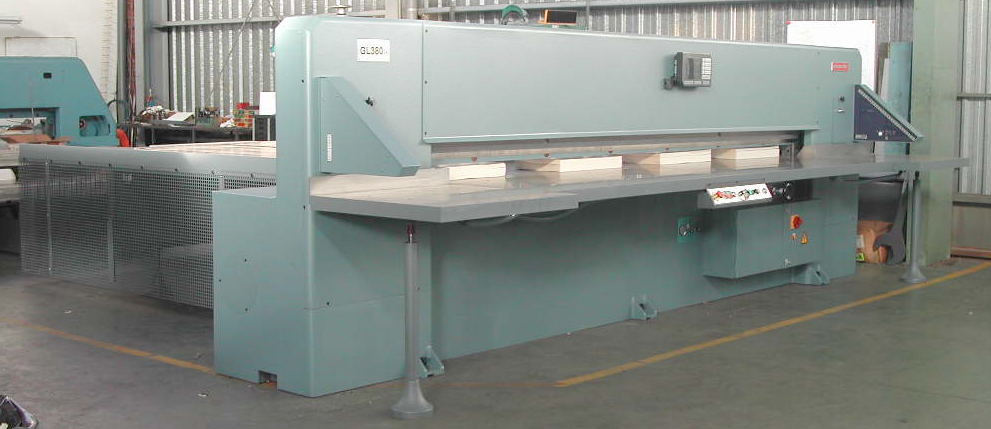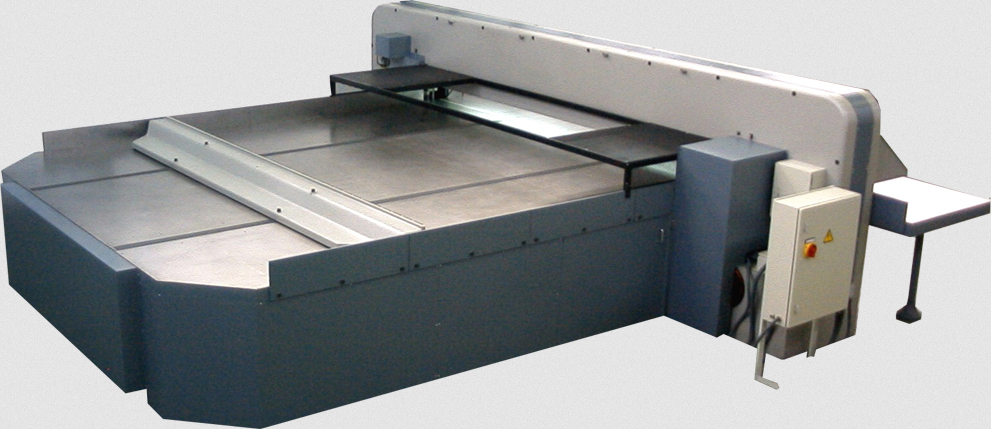 Cauhé guillotines for paper and carton have been designed to solve all of our clients needs , graphic arts and screen and digital print companys as well as the ones who needs to cut fabrics and textiles. We manufacture 2 main types depending on the weight and height of the material to cut, the GH model for heavy duty loads and the GL model for light and medium jobs. In both cases there is a wide range of formats available and any other size can be designed upon request. We are specialized in large format guillotines as well as auxiliary machinery for loading and unloading the material (paper, carton, plastic, textile...).
Our paper cutters are manufactured with the following features:
Reenforced steel main body.
Double geared pulling arms for strength and cutting accuracy.
Air cushion tables to facilitate moving of materials.
Dual linear guides to provide exact positioning of the backgauge.
Automatic cutting program to provide the operator a wide variety of posibilities.
Special options available.
The Cauhé guillotines have been designed in compliance with all regulations concerning safety required by the EEC and optionally can be ordered with the German GS Safety Certificate. We've worked with the company Premier Guillotine Systems (England) to ensure and certify the safety of these machines and also meet the strict criteria of safety regulations England (UK and European Health & Safety Standards).
Our machines can cut a variety of materials ...
In the following tables you can find the difference between our models and its features.
GL model
Model
Max cutting size (milimeters)
Max cutting size(inches)
Maximum cutting height
Minimum cut width
Adjustable cutting pressure
GL 170
1700
67
80mm
3½"
80mm
3½"
Low 880-3300 lbs
High 3300-8800lbs
GL 200
2000
79
80mm
3½"
80mm
3½"
Low 880-3300 lbs
High 3300-8800lbs
GL 260
2600
102
80mm
3½"
80mm
3½"
Low 880-3300 lbs
High 3300-8800lbs
GL 320
3200
126
80mm
3½"
80mm
3½"
Low 880-3300 lbs
High 3300-8800lbs
GL 366
3660
144
80mm
3½"
80mm
3½"
Low 880-3300 lbs
High 3300-8800lbs
GL 380
3800
150
80mm
3½"
80mm
3½"
Low 880-3300 lbs
High 3300-8800lbs
GL 420
4200
165
80mm
3½"
80mm
3½"
Low 880-3300 lbs
High 3300-8800lbs
GH model
Model
Max cutting size (milimeters)
Max cutting size (inches)
Maximum cutting height
Minimum cut width
Adjustable cutting pressure
GH 170
1700
67
160mm
6"
140mm
5½"
Low 880-4400 lbs
High 4400-18700 lbs
GH 200
2000
79
160mm
6"
140mm
5½"
Low 880-4400 lbs
High 4400-18700 lbs
GH 260
2600
102
160mm
6"
140mm
5½"
Low 880-4400 lbs
High 4400-18700 lbs
GH 320
3200
126
160mm
6"
140mm
5½"
Low 880-4400 lbs
High 4400-18700 lbs
GH 366
3660
144
160mm
6"
140mm
5½"
Low 880-4400 lbs
High 4400-18700 lbs
GH 380
3800
150
160mm
6"
140mm
5½"
Low 880-4400 lbs
High 4400-18700 lbs
GH 420
4200
165
160mm
6"
140mm
5½"
Low 880-4400 lbs
High 4400-18700 lbs
Movable controls
High speed backgauge positioning.
Drop Down Side Gauge