Cauhé Clamshell die cutters
Large format leaders for over 70 years
Talleres Casablanca, manufacturer of Cauhe hand fed platen presses, has been leader for years in large format diecutters for graphical arts and packaging industries. During the last 70 years we have designed a wide range of formats, options and customizations for our customers including some patents and special formats requested for our customers. In the last years we are leaders in heavy duty machinery and large format diecutters (also known as Clamshell diecutters).
Our clamshell die cutters are designed to die cut many different types of materials:
Carton plume up to 6 mm. thick
Papier mâche up to 3 mm. thick.
Corrugated carton up to 15 mm thick.
All type of fine cardboard and paper.
Adhesives with half cut: stickers, labels, transfers (Decal), etc.
Eva foam (Ethylene-vinyl acetate) .
Several types of plastics up to 3mm. thick, needing in some cases warming the knives of the die with a heating plate for a perfect cut and finishing.
Sheets of wood and soft metals, depending on the thickness of the material and the amount of cutting knives.
Our machines leaves the factory to work with 23.8mm (0.937") wide knives, being able to work up to 30mm (1.18") knives. Upon request we can customize our machines and manufacture it to accept any special size cutting rule.
Cauhe clamshell die cutters had been designed for years to fulfill all the regulations relative to the safety demanded by the CEE and optionally customers can request the machien to comply the German Certificate of Security GS. Our machines comply with other countries specific safety regulations like ANSI B65.5 in the USA.
We manufacture a wide range of clamshell die cutter models being able to design any special size upon demand.
Small die cutters
| Model | 00 | 0 | 0A | I | IA | II | IIA | III | IV | IVA |
| --- | --- | --- | --- | --- | --- | --- | --- | --- | --- | --- |
| Format cm. | 46x66 | 55x77 | 65x86 | 65x95 | 72x102 | 82x112 | 90x122 | 100X140 | 110x160 | 120x160 |
| Pressure Tm/dm2 | 3 | 3 | 3 | 3 | 2,8 | 2,5 | 2,3 | 2 | 2 | 2 |
| Net weight Kg. | 2000 | 3000 | 3300 | 3500 | 4000 | 4400 | 5000 | 6000 | 8000 | 10000 |
| Motor Power Kw | 2,2 | 3 | 3 | 3 | 4 | 4 | 4 | 5,5 | 7,5 | 11 |
Medium size die cutters
| Model | V | VI | VA | VIA | VIH | VIC | VII | VIIF |
| --- | --- | --- | --- | --- | --- | --- | --- | --- |
| Format cm. | 120x180 | 120X200 | 140x180 | 140x200 | 140x220 | 150x200 | 150X250 | 160x200 |
| Pressure Tm/dm2 | 1,75 | 1,6 | 1,75 | 1,5 | 1,5 | 1,5 | 1,5 | 1,5 |
| Net weight Kg. | 11000 | 12000 | 12000 | 14000 | 14200 | 14200 | 16000 | 15000 |
| Motor Power Kw. | 11 | 15 | 11 | 19 | 19 | 19 | 22 | 22 |
Large format die cutters
| Model | VIIC | VIID | VIIA | VIIG | VIII | IXC | IXA | IX |
| --- | --- | --- | --- | --- | --- | --- | --- | --- |
| Format cm. | 160x220 | 160x250 | 165x250 | 160x280 | 160x300 | 180x220 | 180x250 | 180x320 |
| Pressure Tm/dm2 | 1,5 | 1,5 | 1,5 | 1,5 | 1,5 | 1,5 | 1,5 | 1,5 |
| Neto Weight Kg. | 16000 | 17000 | 17400 | 18000 | 19000 | 20000 | 20500 | 24000 |
| Motor Power Kw. | 22 | 22 | 22 | 22 | 22 | 22 | 22 | 22 |
Diecuters Options
We develop a wide range of security options to fulfill the most strict demanding regulations.
Input from our dedicated craftsmen and valued special requests from our clients has lead us to develop an extensive range of options. Our options are designed to be installed on both new and existing machines at our customers premises.
Each customer can pick the best options that meets their particular needs.
Cauhe clamshell die cutters are sold worldwide and are design to meet or exceed the Strictest Safety Standards.Our safety systems meet the Standards UNE EN 1010-5 and UNE EN ISO 13849-1 and provide the maximum performance level of security (Ple). Our machines comply with other country specific safety regulations like ANSI B65.5 in the USA.
The latest addition in safety systems is the laser scanner. This type of scanner system has been successfully tested on clamshell style die cutters since 2000. Our safety scanner system can be used to replace side tables, side fences or side safety mats, although the upcoming Safety Standards will impose them to be used as an integral security system for the entire machine. Placing one laser scanner on each side of the machine prevents access from the sides and placing one unit at the top prevents front access and safely covers the danger zones leaving just a safe gap above the moving platen to feed and deliver the materials keeping the operator as safe as possible.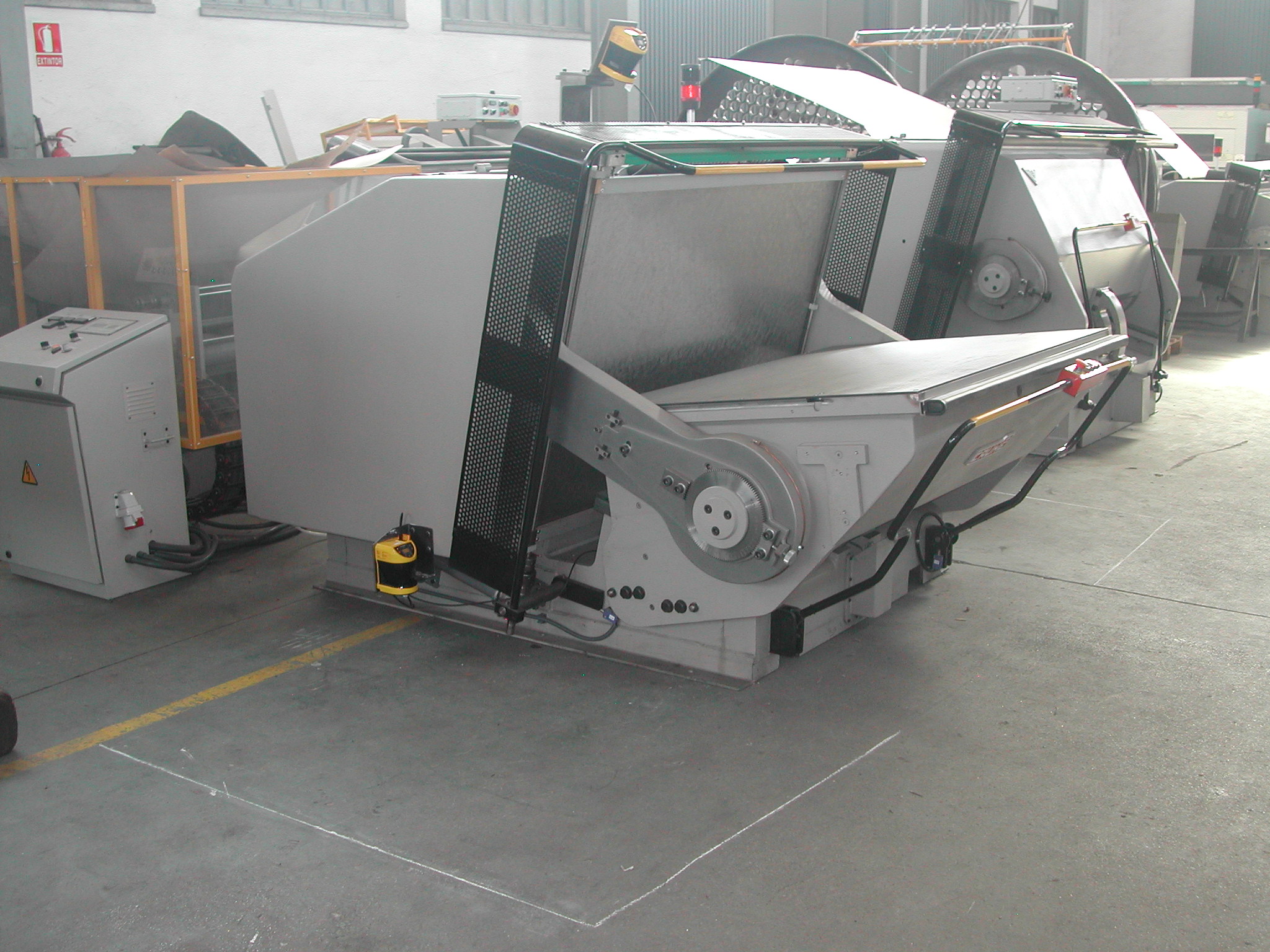 Our ongoing research of new safety systems and collaboration with manufacturers of electronic safety products, makes us the world leader in the development of new safety solutions for these type machines. The main image is a prototype 3D integrated safety system that controls all machine safety, still under development in cooperation with the German company PILZ.
There are several ways to set our machines in position. The most common is to anchor it to the floor by bolts or chemical anchors, but we recommend using anti-vibration mountings, specially designed for these machines.
They prevent the machine from moving away and avoid the vibration produced in each punching stroke, to be transmitted to the company floor. Using anti-vibration mountings, the machine installation is faster. Keeping the machine elevated a few inches from the floor allows for better cleaning around the machine area.
Facilities for managing of our machines.
We offer each customer the opportunity to decide where to locate the machine controls. The safety knee bar has the main working controls, leaving the rest of the controls used only for setting up a job in the main cabinet. These setting controls can be placed in the main cabinet of the machine, in the safety knee bar or on the overhead operator control panel located above the machine. The overhead control can be moved from side to side to suit the operators needs.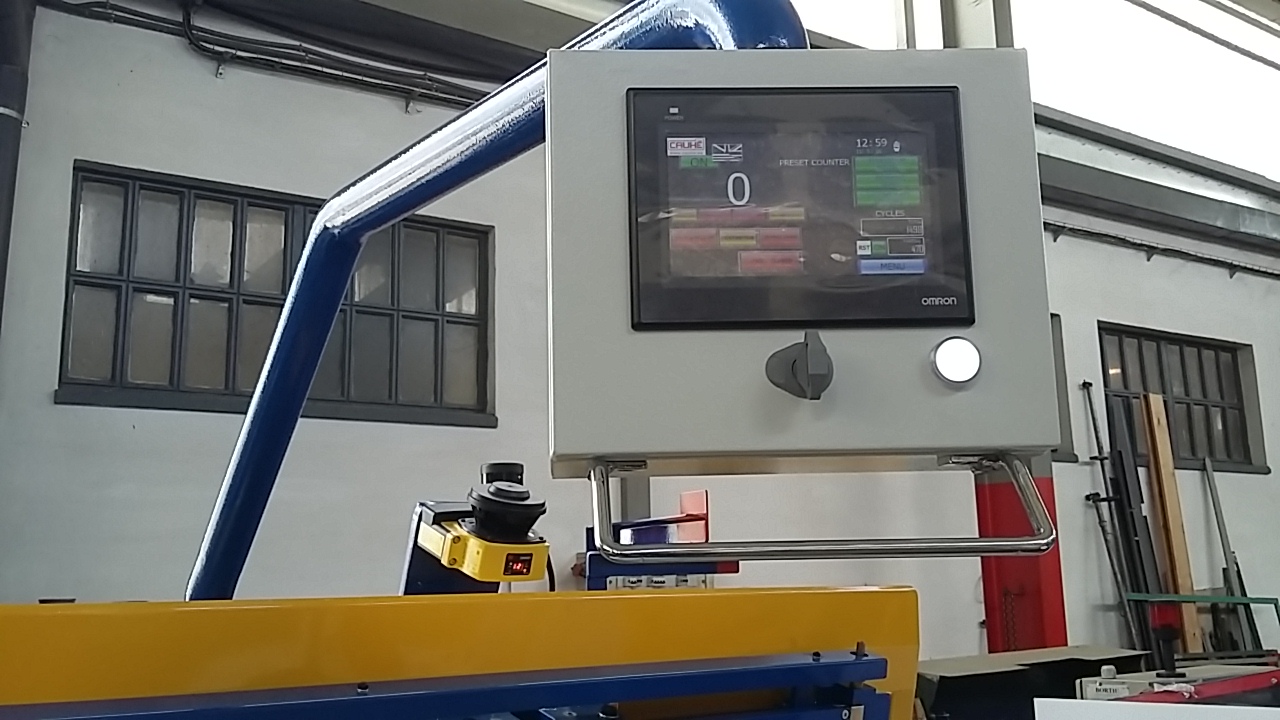 With the electronic speed control unit the machine speed can be adjusted + / - 20% of the rated speed to suit the needs of each job or the capabilities of each operator.
The automatic lubrication system's program insures the machine receives the proper amount of lubrication at the scheduled time, allowing the operator to continue working uninterrupted. The system contains sensors to detect low oil and will stop the machine if a no oil or pressure event is detected.
We have a wide range of options to help the operator lower make-ready time:
Minimizing the cutting die change over time when starting a new job is possible with our optional automatic chase systems. These systems can be single or double type. The latter allows the cutting die to be moved up or down. It can be operated by a hand wheel, by a pneumatic motor or by an electric motor. We can also manufacture it with a standard chase frame so the frame can be removed to maximize the cutting die size. Any of the above options can be fitted to meet a particular need.
Minimizes the make-ready time when setting up a new job. The optional pneumatic cutting plate lifter raises the cutting plate to allow the operator fast and easy access to the setup sheet which speeds up the make-ready process.
Reduce make-ready time by using the optional sheet band guide system it's easily adjusted to fit any size sheet.
One of the most time consuming tasks to perform when setting up a new job is adjusting the cutting pressure. Normally pressure adjustment is performed manually with tools by unlocking and turning the micro-fine eccentric gear and often the operator will need to change the pressure setting several times during each make-ready which consumes valuable time. We provide two options to reduce pressure adjustment time, our exclusive motorized pressure adjustment system and our hand wheel adjustment system. Cauhé is the only clamshell die cutter manufacturer in the world to offer an optional motorized pressure adjustment system. The operator simply presses a button to raise or lower cutting pressure.
Our second option is a hand wheel pressure adjustment system. No tools need for either pressure adjustment system.
Our optional die heating system allows the operator to work with less cutting pressure and at the same time obtain a higher quality finish on many types of plastic, styrene and *vinyl* materials. Easily programmable heat zone controls allow the operator to rapidly adjust die heater temperature.
Customers that have materials that need to be pre-heated before die cutting would benefit from our optional second heating unit installed in the moving platen.
Clients requiring foil stamping capabilities would greatly benefit from our optional foil stamping system. The foil's fed from the roller stand at the rear of the machine up to the used foiled collection rewind unit located on top of the machine. We can provide as many rewinding units as needed.
Our one touch control screen allows for fast an accurate adjustments for the foil speed and stroke of each individual foil roller.
Our removable honeycomb plate allows the operator the ability to die cut or foil stamp with one machine.
Our honeycomb plates are designed to be easily installed or removed for foil stamping or die cutting. We can manufacture the honeycomb plate to fit any kind of automatic chase which allows the operator to fit it as easy and fast as
And if the machine is equipped with the double chase system tha honeycomb plate can be moved up or down with the foil stamping die already attached to adjust it to the correct position minimizing make-ready time.
Some applications may require the installation of different filling plates in the stationary platen or the moving platen that can be removed when it is necessary to work with thick material like book covers.